true stories of God's love


The Spider and the Fly

One day in July my grandson Stephen came to see us. He asked if he could go see Snowflake, our cat, in the barn. I said, "Sure." So out to the barn we went to find her. She lives in the barn because her job is to keep it clean of mice and birds.
Snowflake isn't hard to find because she is pure white. She was up in the rafters and would not come down. But we did see a big cobweb by the window above the workbench where Snowflake has a second bed and loves to lie in the sun.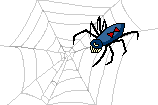 Stephen said, "Look, Grandpa, there is a big fly caught in the web, and there is the spider up in the top of the web. Let's wait to see what will happen."
After only a few seconds, down the web came Mr. Spider to get that big fly. The fly started to beat its wings furiously! So, the spider went back up the web. In a few more seconds down came Mr. Spider again to get that fly. Again the fly started to beat its wings furiously!
Stephen said, "Look at that, Grandpa. The spider won't touch the fly as long as he beats his wings."
I said, "That's right, Stephen, but the fly is going to get tired soon, and then the spider will have him."
Again, down came Mr. Spider to get that fly, and again the fly started to beat its wings, but not quite so hard this time. Back up the web went the spider.
Stephen was beginning to feel a little sorry for the fly and asked, "Grandpa, do you think we should save that fly?"
Boys and girls, this reminds me of what God has said in His holy book called the Bible. "For all have sinned, and come short of the glory of God" (Romans 3:23). Because we were born in sin (Psalm 58:3), we need to have someone save us from the penalty of sin. Romans 6:23 says, "For the wages of sin is death." So who can we turn to for help? God has told us in the Bible about His only beloved Son, Jesus Christ. "While we were yet sinners, Christ died for us" (Romans 5:8). Isn't that wonderful, that even while we were just plain sinners Christ would die for us! What good news!
"Stephen, I guess we will just have to save that fly since he sure can't save himself."
And we certainly can't save ourselves from the web of sin we are caught in either. We need help, and the Lord Jesus Christ can help us. 1 Timothy 1:15 says, "Christ Jesus came into the world to save sinners." Will you let Him save you today?
Stephen and I found a little piece of straw and let the fly hold on to it with his feet. Then we gently pulled him out of that web. Away he flew! Then he came right back and flew around our heads as if to say, "Thank you for saving me."
Are you saved from your sins? If you are, have you thanked the Lord Jesus for saving you? "Herein is love, not that we loved God, but that He loved us, and sent His Son to be the propitiation [God's acceptable substitute] for our sins" (1 John 4:10).
---
Copied with permission for WholesomeWords.org from Messages of God's Love published by Bible Truth Publishers.
>> More True Stories of God's Love
---