true stories of God's love


Special Lamb
T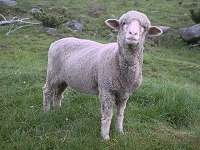 he little lambs tried to run this way and that. The sheep farmers had to be quick, as they guided them up onto the two pickup trucks. Today they would all be sold at the market at Kitchener. It was an hour away, so they had to be on their way soon.
Garth looked over the lambs. They looked so fine. They weighed about 60 pounds each and would sell for a good price. Then he saw it. "There it was in his truck — that special lamb. It looked up at him as if to say, "Hey, where are we going today?" He smiled as he thought about the care and the time he had spent with the lamb.
The mother had rejected the lamb shortly after it was born. It was really an orphan. Garth had taken special care of it. Many times he had held it close. He had used a baby bottle to feed it. As it got older, he made sure it ate the special grain. It had grown fast and strong, with all the special attention it got. It recognized Garth. When he would walk out to the field where the sheep grazed, this special lamb would run over as if to say, "Hi. I'm glad to see you."
It was the finest lamb in his truck today. It was a little bigger, stronger and more beautiful, he thought. This one will get the best price today, he said to himself.
At the market he spoke to the man. "You must bring this special lamb out all alone to be sold. I don't want him brought out with all the others. He is special."
The buyers were at the market, ready to bid on the sheep and lambs. Out came the 60 lambs Garth had brought to the market. The price went up. It was $1.10 per pound, then $1.15, and finally $1.20. It was a good price, and Garth was pleased.
Then his special lamb was brought out. Garth waited with anticipation. He could see it was different from the others. He held his breath as the price went up. First it was 60 cents. Then it went to 62 cents, and then it stopped. Would anybody want to pay more? He looked around. Didn't they see how special this lamb was? It was worth more, much more!
"Sold!" the man called out.
Poor Garth. Only 62 cents. What a poor sale; he couldn't believe it. Out in the market yard he saw his special lamb again. Through misty eyes he said good bye. He knew what it was worth even if nobody else cared.
A few years later when Garth accepted the Lord Jesus as his Saviour, he thought back on his special lamb. He had learned that the Lord Jesus was God's Lamb. He was a very special Lamb, and God sent Him into the world to die for our sins. Yet many people did not care about God's Lamb. Many people did not value Him at all or see anything special about Him. Even Garth for many years had not cared for God's special Lamb. Now he was so glad that he could honestly say, "God's special Lamb is my Saviour and has cleansed me from all my sin." "Behold the Lamb of God, which taketh away the sin of the world!" (John 1:29).
Is God's Lamb, the Lord Jesus, special to you? Have you accepted Him as your very own Saviour, and have you ever taken the time to just thank Him for coming to our world to save us? Do you know how much He is really worth? The Bible says, "Thanks be unto God for His unspeakable [precious] gift" (2 Corinthians 9:15).
---
Copied with permission for WholesomeWords.org from Messages of God's Love published by Bible Truth Publishers.
>> More True Stories of God's Love
---