true stories of God's love


Bringing Up Daisy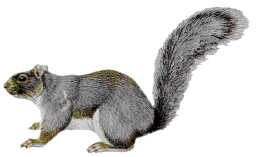 One cold April morning a neighbor boy brought me a baby squirrel in a cardboard box. He had found the squirrel under a large oak tree in his backyard. He knew that I sometimes cared for injured birds and animals. We could see that the squirrel was cold and barely breathing. Its body was only about two-and-one-half inches long with a tail about the same length. Since it did not even have any fuzz on its body or tail, we knew it was not very old.
I brought the tiny squirrel into the house and fixed up an incubator to keep it warm. I filled the bottom of a large wooden box with crushed newspaper. Then wrapping a hot water bottle in a wool blanket, I placed this in the middle of the box. A nest of cotton was placed on top of the blanket, and into this nest went the tiny squirrel. I wondered if it would live.
Warming some canned milk, I tried to get a few drops into is tiny mouth by using an eye dropper. Getting six drops into its tummy this way took all day. I found one of my daughter's doll bottles, and it worked much better. The little squirrel quickly learned to drink from it, and for the next 36 hours, feedings were three hours apart. I named the little squirrel "Daisy."
Like all baby squirrels, Daisy had been born blind. It was two weeks before her eyes opened. Her fur began to show when she had been with me for a week. After two weeks her body and tail were pretty well covered with a furry coat.
As Daisy grew larger she got feedings of orange juice or grape juice in between milk feedings, until she was about two months old. Then she began to eat solid food. She liked oranges, watermelon, cantaloupe, avocado, rose petals, dandelion leaves and leaves from the tips of branches. The food from the backyard was carefully washed.
This story makes me think of how the Lord Jesus takes care of His children. His children are those who have accepted Him as their Saviour. Just like Daisy, we were helpless and without any way we could please God. But God knew that we needed to be saved and sent His Son, the Lord Jesus Christ, to save us. He came into the world to rescue us. As sinners, there was no hope for us, except by the love and grace of the Son of God. He was perfect and could not sin. But His love for us was so great that He took the punishment for our sins on the cross. All that we have to do is admit that we are helpless sinners and accept what the Lord Jesus has already done for us. Will you let Him be your Saviour now, before it is too late?
Daisy would have died if someone had not taken such good care of her and given her the food that was just right for her. God has given us the Bible, which is the best food that we can have. It helps our Christian life grow so that we can please Him. Daisy could not have grown if she had not eaten the food that was given to her. And we cannot grow in the things of God if we do not read the Bible and use what we have learned from Him.
Daisy lived in our house for two years. I kept a branch for her to exercise on, and she learned to follow orders. Squirrels can be trained indoors so that when the time comes for them to be released outside, they are ready for life in the open. Daisy was released among the trees in our backyard. She has lived there for almost three years and has raised several families of her own.
Daisy was cared for until she could take care of herself. God has promised to be with us and take care of us until He takes us to be with Himself in Heaven. The Apostle Paul stated his own trust in these words: "I know whom I have believed, and am persuaded that He is able to keep that which I have committed unto Him against that day" (2 Timothy 1:12).
---
Copied with permission for WholesomeWords.org from Messages of God's Love published by Bible Truth Publishers.
More True Stories of God's Love
---