true stories of God's love


Almost Buried Alive!
"Put him in the grave with his dead father."
Standing at the edge of his father's grave, little Pedro Montes heard these words being said about him. Even Pedro's poor mother, whose husband had just died, agreed.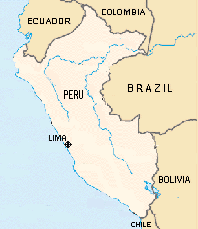 Pedro and his family are members of the Culina Indian tribe in the jungles of Peru. At the time Pedro's father died, the people of his tribe had never even heard the name of the Lord Jesus, or how to be saved from their sins and be sure of going to heaven. So Pedro was afraid to die.
In the Culina tribe, parents could ask to have a live baby or child buried with a parent that had died. Since Pedro was young and his mother already had more children than she thought she could possibly feed by herself, Pedro was just moments away from being buried alive!
Pedro's time was short. Your time also may be short to decide if you will spend eternity in heaven with the Lord Jesus, or in that awful place called hell with Satan. The Bible says in 1 Corinthians 15:52 that the Lord Jesus will come again, and "in a moment, in the twinkling of an eye" he will take everyone who has believed in Him to heaven. This could happen today. If you have not believed on the Lord Jesus at the time He returns, you will be left behind to bear the punishment for your sins.
Pedro was terrified! Without waiting another second, he ran as fast as he could into the jungle. He climbed a tree and sat there, crying and sobbing. When an animal started climbing up the tree where Pedro was sitting, his crying scared the animal away.
Pedro was afraid the men of the village would come looking for him to take him back and bury him. So he came down out of the tree and headed farther into the jungle.
Suddenly, he spotted a jaguar. Now everyone in Pedro's village was in danger!
In Romans 3:22-23 we read, "For there is no difference: for all have sinned, and come short of the glory of God." These Bible verses tell you that you are a sinner. If you haven't trusted the Lord Jesus to wash your sins away, you are in danger too.
Pedro didn't think of his own danger, but only that everyone in his village was in danger. He ran back to the village and screamed, "Jaguar! Jaguar!"
His mother and some others followed him back into the jungle. But the jaguar had run away; instead they found a deer. One of the men shot the deer with his bow and arrow and took it back to the village for food.
Pedro's relatives said, "This is a good son. He will help us have lots of meat." Since they agreed Pedro was a good little hunter who would help them find meat, they would not bury him. His life was saved.
Pedro and the rest of the Culina tribe traveled from place to place most of the year. Sometimes they would raid settlements to steal machetes and other tools. A measles epidemic broke out after one of these village raids, and many people of the Culina tribe died.
Only 75 people were still alive in Pedro's village at the time two young missionaries came to live with these Culinas. These missionaries began to study the Culina language. After they had learned enough, they began to translate the Bible into the Culina language. Then Pedro and other Culinas could learn of God's love. They would hear for the first time how God's Son, the Lord Jesus, came into this world and became a man to die on Calvary's cross so that anyone who will believe in Him can be saved.
Pedro got sick and was once again near death. One of the missionaries read to him some Bible verses that they had just translated. Pedro believed what he heard and said, "I will follow God." He also said, "I want to hear more from God's Book so I'll know it better."
Another missionary sent medicine, and Pedro soon got over his sickness. Since then, Pedro has helped the missionaries translate more and more of the Bible into the Culina language. He wants all the Culinas to understand God's message and be saved.
The Lord Jesus hasn't come back yet, but He will. 2 Peter 3:9 tells us, "The Lord is not slack concerning His promise, as some men count slackness; but is longsuffering to us-ward, not willing that any should perish, but that all should come to repentance." Is He still waiting for you to be saved? Why not make that decision right now, before it is too late? Believe on the Lord Jesus today!
---
Copied with permission for WholesomeWords.org from Messages of God's Love published by Bible Truth Publishers.
>> More True Stories of God's Love
---