Dwight L. Moody Northfield Residence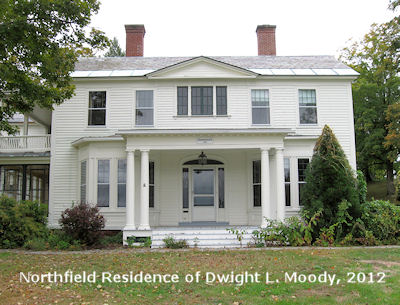 Directions:
Interstate 91 North
Exit 28 towards Route 10 N / Northfield (0.2 miles)
Go straight on Route 10 N (4.3 miles)
Turn left to stay on Route 10 N (also Route 63 N) to Northfield (0.5 miles)
Continue past Northfield Town Hall about 1.5 miles.
Moody's Northfield residence on right, 22 Main Street (also Route 10 and 63). Up the hill behind the house is Round Top and the gravesite where Mr. Moody and his wife, Emma, are buried. Moody's birthplace is on Moody Street.
Photograph by Stephen & Dorothy Ross for WholesomeWords.org 2012.
>> More D. L. Moody
---